The new comfort thermometer displays both the temperature and humidity in addition to indicating and recording both maximum and minimum readings. The unit features an easy to read, large LCD display with analogue arrow indicator and a colour-coded bar to display temperature comfort levels e.g. cold, comfort and hot.
Condensation is a big problem and high cost for Local Authorities, Housing Associations, Private Landlords etc. With this comfort thermometer, this is a cost effective tool for assessing risk of condensation, measuring air temperature and air moisture content. Identifying high humidity and the onset of possible condensation at an early stage can prevent mould.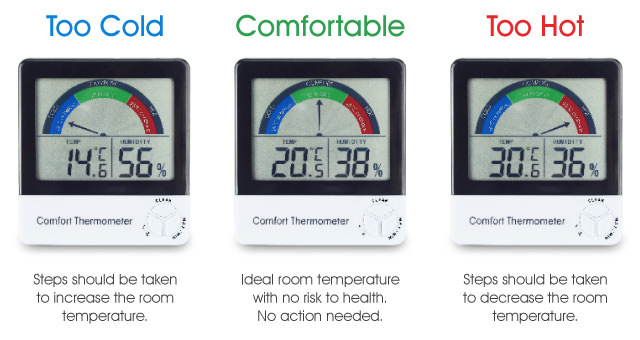 When the dial is in the:
BLUE sector: Additional heat is required to increase room temperature
RED sector: Ventilation is required to reduce room temperature and lower the humidity
GREEN sector: This indicates the ideal room temperature for comfort and healthy living conditions with no risk to health
This thermometer is ideal for monitoring both temperature and humidity in rooms, offices, factories and similar to ensure optimum working conditions are maintained.
The unit is housed in an ABS case, measuring 20 x 100 x 110 mm, that incorporates a useful foldaway stand and a
keyhole slot for hanging on a wall.