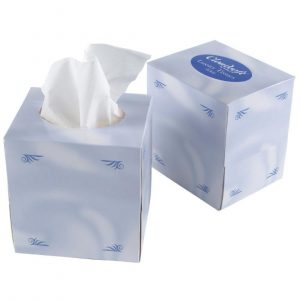 SKU: PFT650C
These strong, soft 2-ply white tissues are made from recycled paper, plus are gentle on the skin. With high absorbency, a small amount of tissues are needed at a time. Ideal for use in conjunction with the Perola® Chrome Cube Facial Tissue Box Holder for a more superior look, plus splash-proofing in hospitality, washroom or catering environments. Each tissue is dispensed individually for an economical and hygienic option, as users only touch the tissue/s they take. They are made from FSC-certified pure virgin paper sourced in line with EU timber laws. Ideal for use in salon, medical, clinical and office areas, as well as for general household use.
Soft tissues that are gentle on the skin
Made from recycled paper
Environmentally friendly and economical
High absorbent properties
200mm x 210mm
Pack of 70
Reduced wastage
SKU: PFT651H
Standard box of luxury white 2-ply hotel facial tissues. Perfect for tackling sniffles, removing cosmetics, dentists provide tissues after mouthwash use etc. Used in medical, salon and hospitality areas, and for all professional settings where a convenient, soft tissue is needed. These pure 'virgin tissue' paper, FSC certified and fully compliant with EU timber regulations.
100 x 2-ply tissues per box, 36 boxes per case
Soft, luxurious yet absorbent tissue
One at-a-time dispensing helps reduce waste
Tissues & boxes made from ethically sourced materials
Tissues & boxes disposable and fully recyclable
Handy size box is portable
Water resistant box - Can use in washrooms