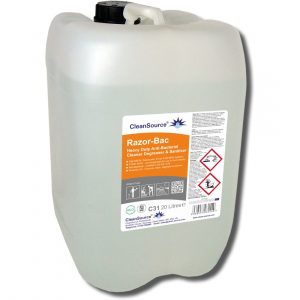 SKU: C31C.2
A highly-concentrated, odourless, alkali food plant cleaner, degreaser and sanitiser.
Kills MRSA, Salmonella, E-coli
Tested with proven effectiveness against Gram+ve and Gram-ve bacteria, it passes BS EN 1276.
Razor-Bac disperses and dissolves fats, blood stains, shortenings in food processing/ catering.
Food safe - Ideal for food industry, bakeries, confectioners, breweries, abattoirs, meat processing etc.
Widely used for animal handling equipment and vehicles, animal houses, kennels, veterinary buildings, mortuaries etc.
BS EN 1276: Proof of bactericidal efficacy
BS EN 1276 is the European standard for the bactericidal activity of chemical disinfectants. In order to pass this standard, products must prove a bacteria kill rate of 99.999% within 5 minutes.